Your 6-month knee strength program
My Knee Strength exercises are proven to reduce knee pain. They're also proven to help people get back to doing active things they enjoy. There are 3 exercise programs to work through in the next 6-months. You'll start a new program every 2 months. Each program has a new challenge. So, you'll keep progressing!
Read each section. Follow the instructions to start your knee strengthening program.
How to start the My Knee Strength exercises
Start your My Knee Strength exercise in the first week you access this website. Starting your exercise is easy!
STEP 1 Click on the Program ONE icon.
STEP 2 Follow the instructions.
STEP 3 Start the exercises.
When to start Program Two and Program Three
After two months it's time to progress to Program Two then two months after that it's time to progress to Program Three.
Read the next section to learn what simple equipment is recommended to help you progress your exercises. 
We recommend you use ankle weights in your My Knee Strength Program.
You don't need ankle weights to start your My Knee Strength exercise.
But, after one week we recommend you add them to your program. Using ankle weights increases the challenge. So, you'll build muscle strength and ultimately reduce knee pain. Within Program One, Two and Three each exercise has instructions of how to increase the challenge.
Recommended ankle weights
As a guide, people with knee pain have gradually increased to use 10kgs for some of the exercises. Some people even progress to 15kgs or more!
If you don't have ankle weights we recommend you purchase a pair. We recommend adjustable ankle weights. Adjustable in 1kg increments is best, with a maximum weight of 10kgs a pair. You can use single ankle weights too, if you would prefer.
Why use adjustable ankle weights? You'll find some exercises easier than others. This means you'll use different weights for different exercises. Adjustable ankle weights may be more cost effective in the long run.
Where to buy ankle weights?
You can buy ankle weights from a range of places.
In a store: Try your local sports or department store. Most department stores stock ankle weights in their sports section. Department stores are more likely to stock single ankle weights. Not many stock adjustable ankle weights. We recommend calling and asking before you head in-store.
Online: You can order ankle weights from an online store. All online stores can deliver to your home. We recommend searching online for 'adjustable ankle weights'. You can select from a range of different companies offering the price and delivery time that suits you. Example online stores include Ebay and Amazon.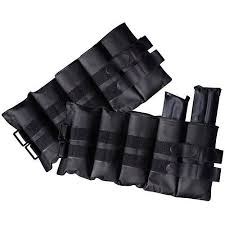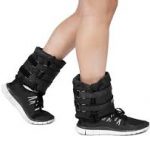 Resistance exercise band
A couple exercises suggest using elastic resistance band to increase the challenge. If you decide to use resistance band you'll need a 1m length. Resistance band comes in a range of strengths. We recommend getting two pieces. One piece of the easiest strength, the second piece the middle strength. You can purchase the band where you get your ankle weights. You can also purchase a piece of band from a gym or Physiotherapy clinic.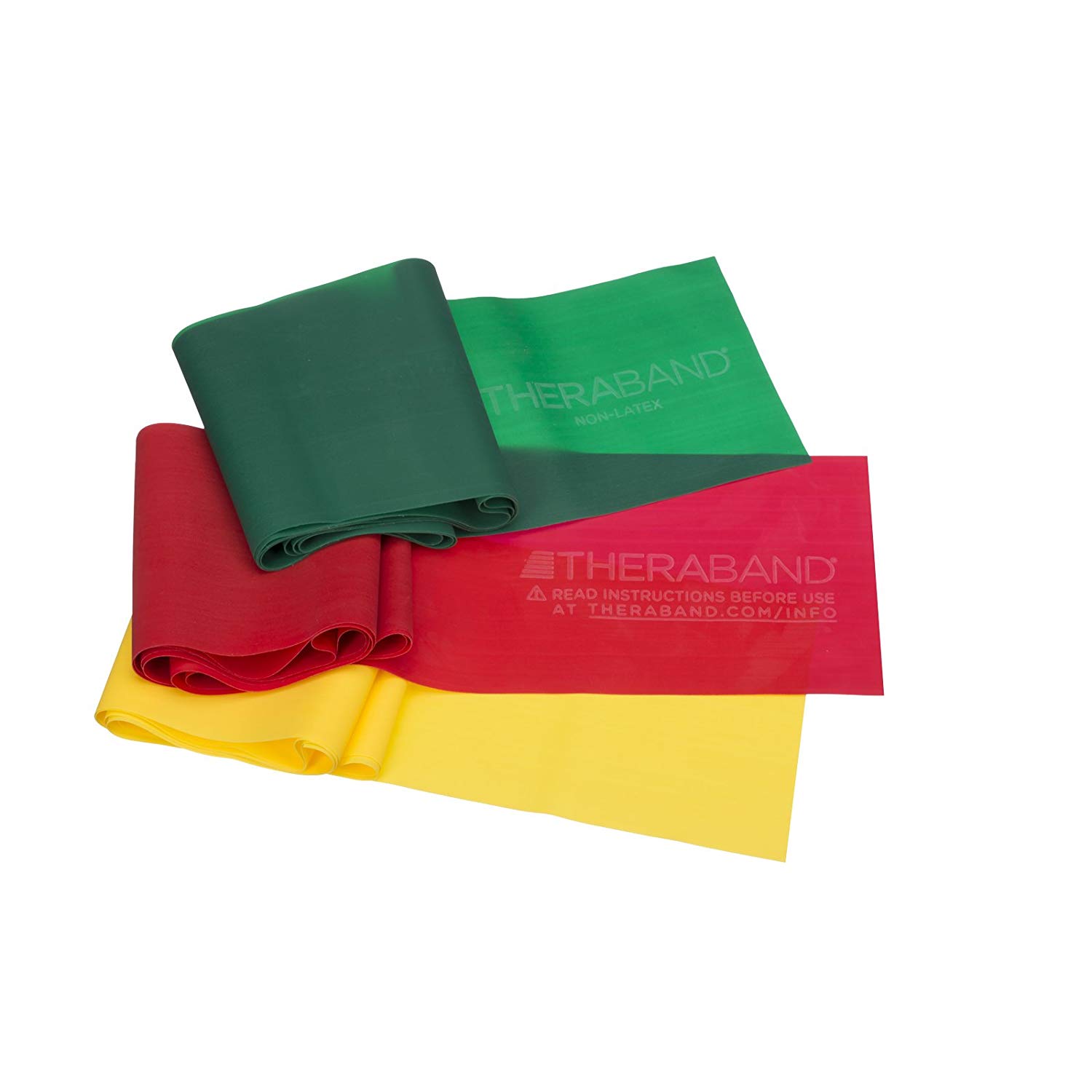 While we have good intentions, we all know it's tough starting and sticking to regular exercise.
A range of things can and do get in the way of regular exercise.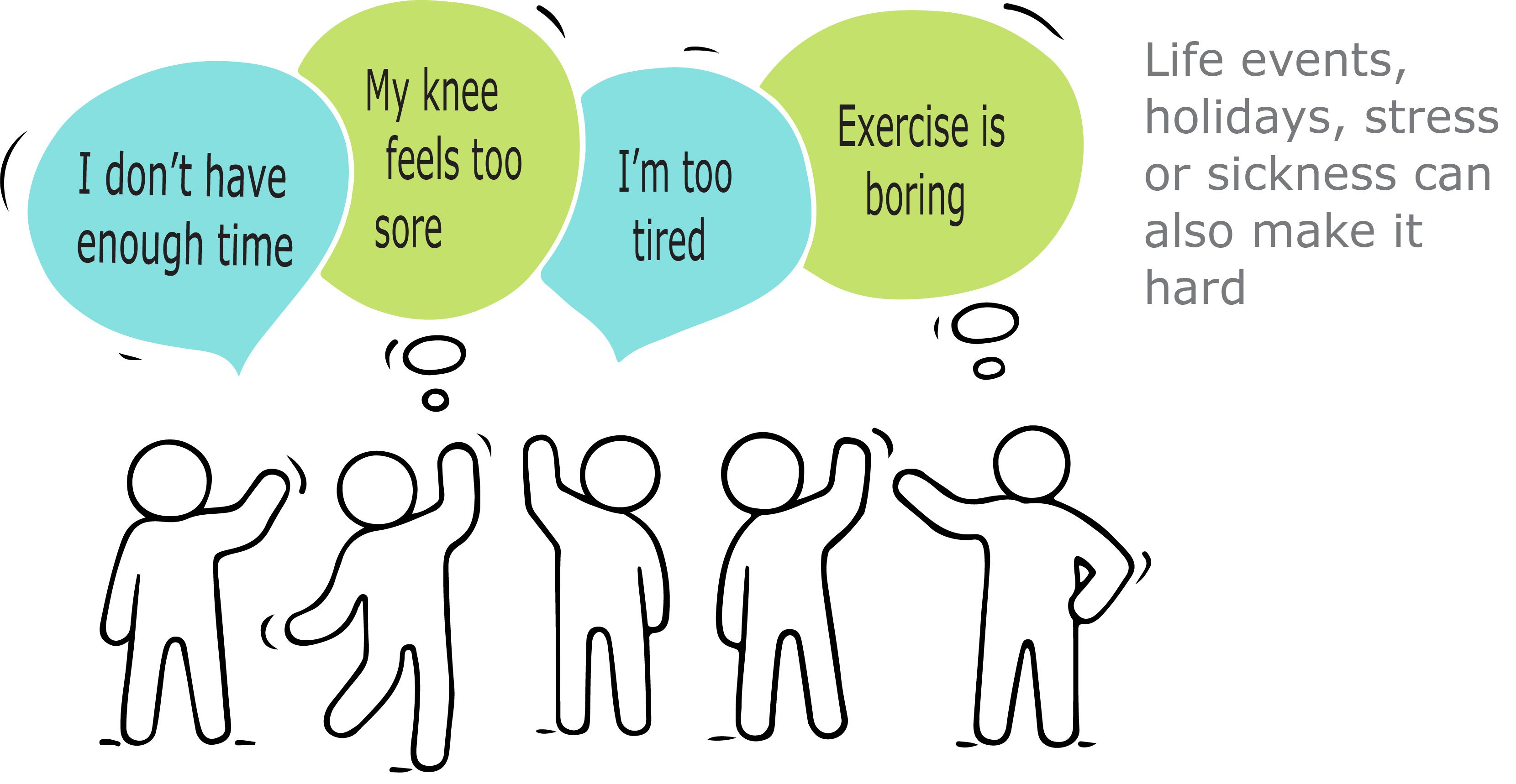 Planning for what could get in your way is an important part of starting and sticking to regular exercise. Make a plan of how you'll fit your exercise into your day, despite the challenges.
Some ideas you might find useful:
Link your exercise to something else you do regularly.
Keep a record of your exercise in a calendar, diary or log book.
Set a reminder to exercise on your phone.
Make exercise social. Do it with a friend or get your family involved.
Give yourself a reward to look forward to when you do exercise. 
Your mobile phone message support
To help you stick to your weekly knee strengthening exercises check out the My Exercise Messages app. It's free! Find out more about the message support in the next section called Access Your Tailored Exercise Support.
Next click on the videos
Hear from knee pain experts and people with persistent knee pain.
In the videos you'll learn more about common challenges that can get in the way of regular exercise and tips to help you overcome these challenges.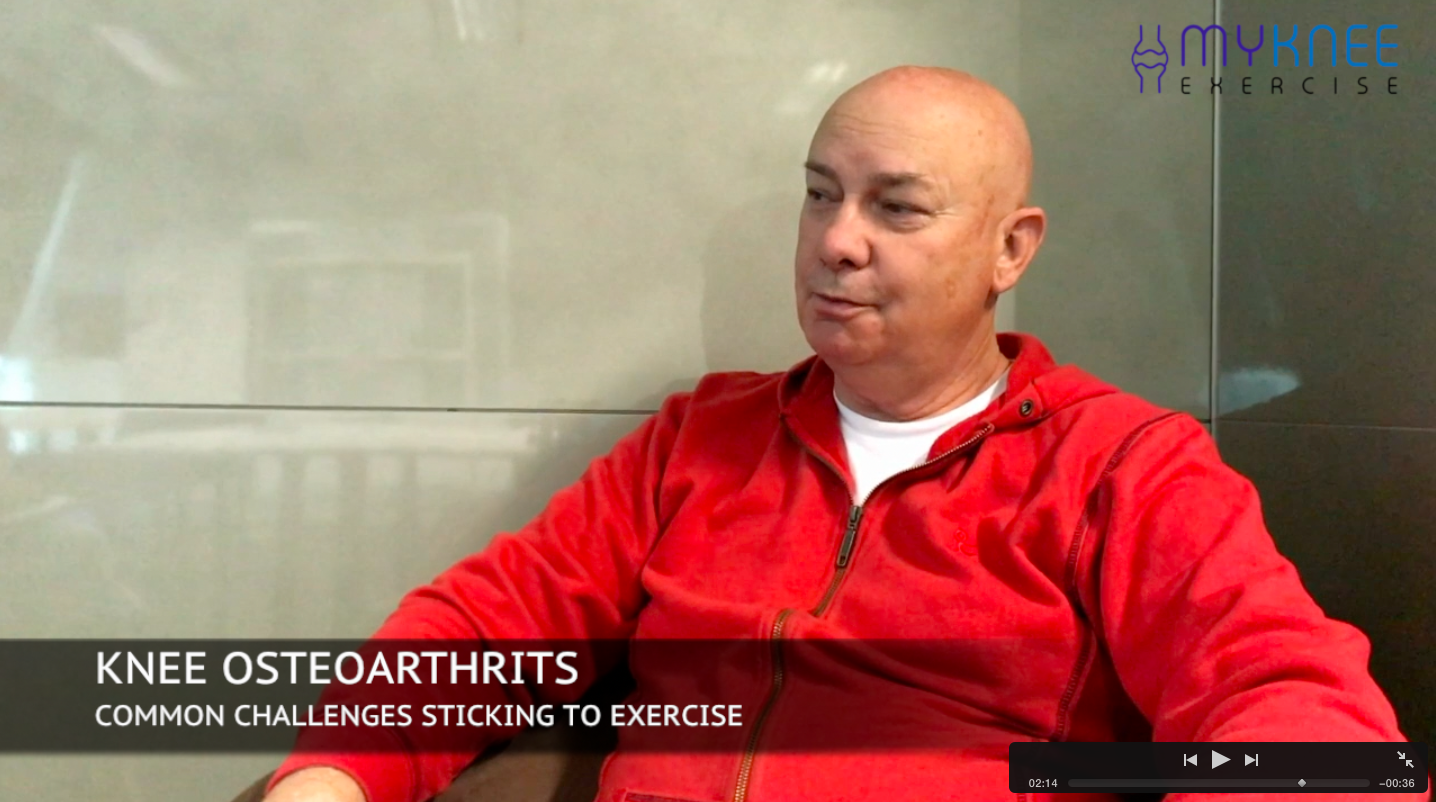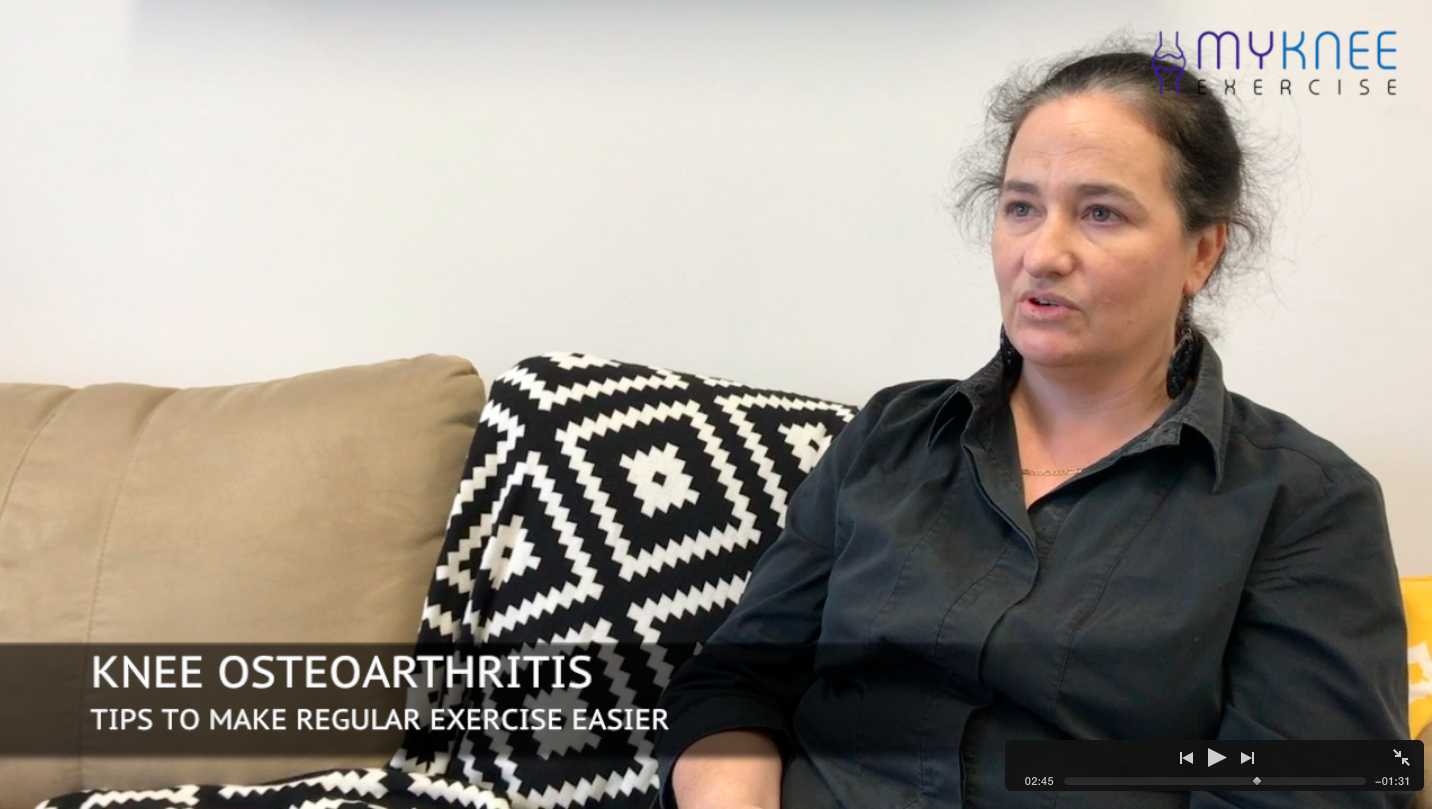 The My Exercise Messages app supports your My Knee Strength exercises 
We all know it's tough sticking to a regular exercise program. So, to help with your My Knee Strength exercise we've developed an exercise support app called My Exercise Messages. 
What is the exercise messages app: My Exercise Messages is a free and easy to use app designed to support people with osteoarthritis (chronic lower limb joint pain) stick to regular exercise. It can be used with your My Knee Strength exercises or any exercise program prescribed by a health professional. Simply download the app from an app store, allow notifications, and input your weekly exercise goal. The app will prompt you to log your exercise sessions each week so you can monitor your progress against your goal, over-time. You'll receive tailored messages based on behaviour change theory and university-led research. These messages will help motivate you and will support you if you encounter challenges getting your weekly exercises done.
Who created my exercise messages: My Exercise Messages was designed by research physiotherapists at the Centre for Health, Exercise and Sports Medicine (CHESM), The University of Melbourne. Our research shows tailored messages based on behaviour change theory help people with osteoarthritis stick to their exercise program. This app was developed by the Melbourne eResearch Group within the School of Computing and Information Systems at The University of Melbourne.
How to access the app: Simply download the app from the app store supported by your mobile phone or tablet. Click on the links below.